Go directly to content
VTT Webinar
Successful electrification of city's transport system
On-demand webinar available now.
Discover how the city of Helsinki, Finland, and the city of Santiago, Chile, found the best technological and economical solution for electrifying their public transport system. The systems were designed and optimised for the city's unique environment while maintaining the same service level.
The latest emission regulations are urging public transportation systems to face many challenges towards deploying zero-emission electrified services. Transportation systems are complex and there are many technologies available on the market, which makes it even more challenging to pick the best solutions from a systematic and techno-economical point of view. Cities are always unique, so there is no single solution that fits all.
How to optimally design and prepare a new system that takes into account disturbances and varying conditions?
What is the cost of fleet electrification?
Where to place and how to measure the charging infrastructure?
In this webinar, Ville Uusi-Rauva from HSL (Helsinki Regional Transportation Authority, Finland) and Sebastián Galarza Suárez from (Centro Mario Molina, Chile) will share their experiences of the journey for electrifying public transportation in the cities of Helsinki and Santiago – two very different environments with specific challenges.
We will also shortly present VTT Smart eFleet, the toolbox that helps cities to increase predictability and ensure a successful transport system transformation for any city planning electrification.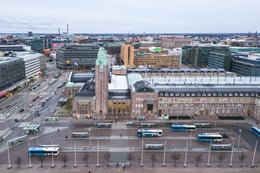 Register here to watch the recording