Go directly to content
Process modelling and simulation
How to improve speed and flexibility in R&D and factory optimisation
How to create an accurate cost-benefit analysis of your investment?
In many industries, new equipment and factories require multi-million-dollar investments. When the stakes are high, there is no room for human error. The planning and cost estimates have to be accurate.
Building a factory just to discover that the operation is economically or technically unsatisfactory is not feasible. But how do you get accurate cost-benefit data on the project in advance?
The answer lies in modelling and simulation. By creating accurate models of industrial processes and running simulations with the models to study the effects of different scenarios on the process, you can quickly validate your investments before making the final investment decisions.
In this guide, we'll reveal:
how modelling and simulation are used in industrial R&D, project proposal and delivery as well as production optimisation processes,
what their key benefits for each process are, and
how to choose a suitable partner for your modelling and simulation needs.
Download your copy of the guide to learn more.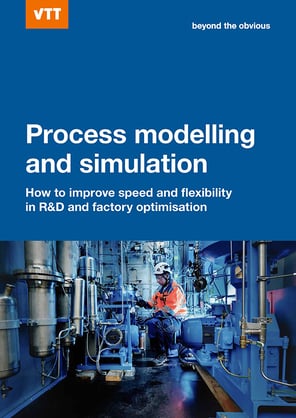 Download guide