Go directly to content
Whitepaper: Plant proteins from Finland
In order to meet the global climate targets a dietary shift which includes more of minimally processed plant based foods is a must. In Finland, the development of sustainable plant protein alternatives has taken place and many successful consumer products and ingredients have already reached the international markets.
Finnish response to the global need of protein alternatives
Building a sustainable food system brings in remarkable business opportunities for Finnish plant-based ingredients and alternative protein sources. Finland has excellent basis to plant-based food innovations. This can be a real success factor in boosting export and business potential.
Many successful products have already reached international markets such as Pulled Oats®, Elovena® and Beanit® as meat alternatives, BlackGrain from Yellow FieldsTM and Aurora as alternative protein sources obtained from rapeseed and oats.
Contents
This whitepaper covers the following topics:
Why Finland has excellent basis to develop plant based food innovations
The importance of consumer acceptance around meat alternatives
Finland as emerging exporter of plant protein ingredients
How easy to cook consumer products increase consumption of plant proteins
Get your copy now
DOI: 10.32040/EXPRO.WhitePaper.2022.PlantProteins.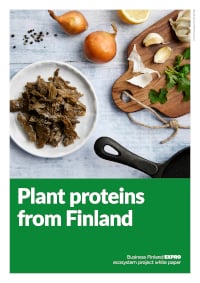 You can open the Plant proteins from Finland whitepaper from the link below.
EXPRO ecosystem project partners
VTT Technical Research Centre of Finland Ltd.
University of Helsinki
University of Vaasa
Foodwest Ltd.
Apetit Group
Compass Group
Fazer
Foodwest
Lihel
Raisio
Ultima
WestMills
About VTT
VTT is a visionary research, development and innovation partner for companies and the society. We bring together people, business, science and technology to solve the biggest challenges of our time. This is how we create sustainable growth, jobs and wellbeing and bring exponential hope.
VTT is one of the leading research organisations in Europe, and we have 80 years of experience in cutting-edge research and science-based results. Our more than 2,000 professionals work to develop systemic and technological solutions that can bring about fundamental transformation.
We promise to always think beyond the obvious.
Key facts*
Revenue 254 M€
Over 1160 customers
~430 patent families
* VTT Group 2021