Go directly to content
VTT Guide
Overcoming bottlenecks in green energy transition

Full of potential, but also presenting complex challenges, what does green energy transition require from companies? VTT's new guide presents five bottlenecks and the latest solutions to make the change successful.
Our energy system is facing an inevitable transition: fighting against climate change requires cleaner and more affordable energy production, as well as finding more efficient ways to distribute and use energy.
A new energy system is already developing rapidly, and companies want to move towards the growth opportunities. However, the journey is not without challenges.
Five bottlenecks and how to solve them
New dynamics challenge the operation of the energy system
Conflicts between sustainability impacts
Integration and complexity are
challenging our energy resilience
Limited availability of critical raw materials
slows down the green transition
Today's decisions will impact
future generation
The 45-page guide presents three solutions for each of these. For each solution, we describe the practical actions with timetables for putting the solutions into use and bringing them to the market.
From resilient districts and building-as-a-battery concepts to hydrogen and SMR for local energy production, this guide is based on world-class research and innovation from VTT together with its specialist partners.
Future-proof your strategy for the green transition.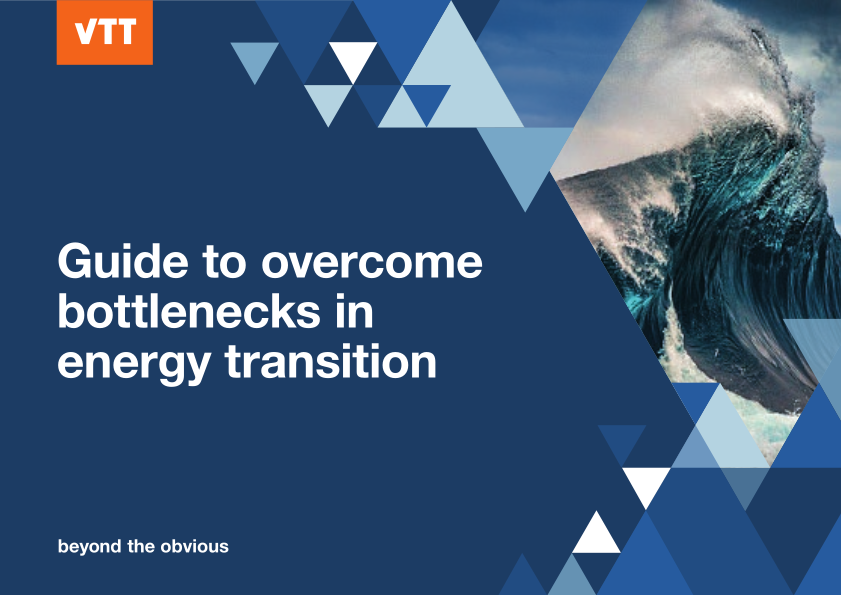 Download your copy now
Writers
Tuula Mäkinen – Lead, Green electrification
Antti Arasto – Vice President, Industrial energy and hydrogen
Jussi Manninen – Executive Vice President, Carbon neutral solutions
We have compiled this publication using the contributions of several experts of VTT.
Contributors
Ari Aalto – Vice President, Mobility and transport
Edgar Bohner – Vice President, Smart energy and built environment
Olli Himanen – Research Team Leader, Hydrogen production
Kirsi Hyytinen – Research Team Leader, Future-proof societies
Heidi Kirppu – Senior Scientist, Urban energy systems
Päivi Kivikytö-Reponen – Research Team Leader, Industrial circular economy
Tomi Lindroos – Research Team Leader, Sustainable material design
Kari Mäki – Research Professor, Smart energy systems
Sampo Mäkikouri – Research Scientist, Carbon-efficient industry
Kaarle Mäkinen – Business Development Manager, Carbon neutral solutions
Tommi Nyman – Lead, LDR Commercialisation
Mikko Pihlatie – Research Professor, Electrification of transport
Eetu Pilli-Sihvola – Lead, Digitalisation of transport
Pekka Pohjanne – Lead, Materials for new energy technologies
Elina Raivio – Head of Business Development, Carbon neutral solutions
Petra Raussi – Senior Scientist, Smart grids
Jari Shemeikka – Research Team Leader, Urban energy systems
Eemeli Tsupari – Principal Scientist, Carbon-efficient industry
Ville Tulkki – Lead, SMR technologies
Laura Wendling – Research Team Leader, Nature-based solutions
About VTT
VTT is a visionary research, development and innovation partner for companies and the society. We bring together people, business, science and technology to solve the biggest challenges of our time. This is how we create sustainable growth, jobs and wellbeing and bring exponential hope.
VTT is one of the leading research organisations in Europe, and we have 80 years of experience in cutting-edge research and science-based results. Our more than 2,000 professionals work to develop systemic and technological solutions that can bring about fundamental transformation.
We promise to always think beyond the obvious.
Key facts*
Revenue 254 M€
Over 1160 customers
~430 patent families
* VTT Group 2021