Go directly to content
VTT white paper
4 Alternative feedstock strategies: for an era beyond fossil-based fuels
Oil industry needs alternative feedstocks. With the price of CO2 emissions sharply rising, oil companies must create a solid strategy for decarbonisation and alternative feedstocks. Fuels made from waste plastic, biomaterials, or hydrogen are becoming even more attractive alternatives.
Oil companies around the world are looking for alternative non-fossil feedstocks. As the price of CO2 emissions will rise as part of climate change mitigation actions, oil refiners need to cut their emissions drastically in the future.
So far, alternative feedstocks have been mostly biomass-based. Today, so-called e-fuels have become the hottest topic in discussion.
Experts agree that none of the many emerging solutions will be big enough to cover the whole feedstock demand. Based on EU commission scenarios, both biofuels and e-fuels are essential in the future.
Strategic alternatives for oil companies
In this white paper, we discuss four alternative feedstock options:
Waste plastics
E-fuels
Lignocellulose biomass
Municipal solid waste
What are the pros and cons of each alternative? What is known of the processes at the moment? What kind of research efforts are ongoing? What ultimately separates the different feedstock options from each other?
This 26-page white paper is filled with the most up-to-date information our experts have on the topic.
Download to learn more!


VTT is a visionary research, development and innovation partner
VTT Technical Research Centre of Finland Ltd is one of Europe's leading research institutions. We are owned by the Finnish state.
Our task is to advance the utilisation and commercialisation of research and technology in commerce and society. Through scientific and technological means, we turn large global challenges into sustainable growth for businesses and society.
We bring together people, business, science and technology to solve the biggest challenges of our time. This is how we create sustainable growth, jobs and wellbeing and bring exponential hope.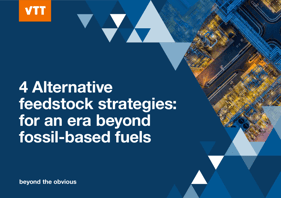 Download your copy