Go directly to content
Megatrends report: Leading towards a better future
The 7 megatrends that will help decision-makers crystallise their direction for the upcoming decade
Success requires a clear vision of the future.
In an uncertain world, megatrends might be the most stable and trustable element in strategic thinking. A business based on megatrends is unlikely to fail.
Many companies already address megatrends in their strategy. However, we feel they often fall short of what could be accomplished. Megatrends are mentioned on strategy one-sliders, yes, but connecting them to the challenge at hand and deeper context is often missed in strategy processes.
In other words, there is a lot of potential for companies to build their competitive advantage.

Who is this for
This report is useful for B2B and B2C companies who are:
preparing for the next strategy or innovation cycle,
facing a disruptive change in their industry,
or want to crystallise their direction for the upcoming decade.
The report is valuable to people working with strategy, change management, business development, or research / product management.

Contents
This 22-page report is written by our leading experts in business intelligence and strategic foresight.
The 7 megatrends discussed include:
Demographic changes: the world is adjusting to ageing
The digital economy becomes the norm: from metaverse to human augmentation
Flexible work is empowering a cultural shift
Smart, technology-enhanced experiences and services shape our everyday lives
Geopolitics and global markets shift focus
Energy transition is shaping green and smart power grids
Sustainability is on everyone's agenda
Megatrends are not meant to surprise anyone. If they surprise you, you are probably already in trouble.
But what are the implications of each trend? How are subtrends and countertrends emerging? What are successful companies doing to set strategic priorities based on trends?
Download your copy of the report and learn more!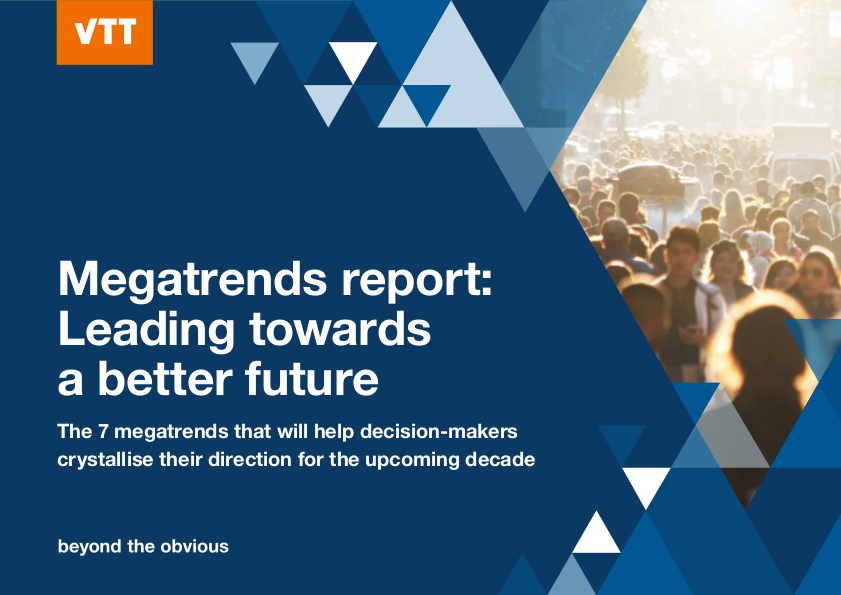 Download your copy here
About VTT
VTT is a visionary research, development and innovation partner for companies and the society. We bring together people, business, science and technology to solve the biggest challenges of our time. This is how we create sustainable growth, jobs and wellbeing and bring exponential hope.
VTT is one of the leading research organisations in Europe, and we have 80 years of experience in cutting-edge research and science-based results. Our more than 2,000 professionals work to develop systemic and technological solutions that can bring about fundamental transformation.
We promise to always think beyond the obvious.
Key facts*
Revenue 254 M€
Over 1160 customers
~430 patent families
* VTT Group 2021