Go directly to content
Sustainability transition in cities
VTT & Hitachi – Guide for business leaders and city

decision-makers
Cities are key players in sustainability. Their visions and strategies for a greener future open up opportunities and can create great impact with low cost. However, green projects are just well-intentioned dreams without adequate funding.

In order to make the dreams reality, we need to increase transparency with standardised key performance indicators and identify drivers and enablers of change. The projects also need platforms where potential investors and other stakeholders can meet and collaborate.
Making holistic and strategic decisions in complex smart city environment
VTT CityTune® is designed to develop unified KPIs and to model the complexity of cities in order to find the most effective projects and support decision-making.
Once the projects have been identified, a sustainable finance platform helps cities to find green funding by connecting potential investors with the projects.
The complex structure of cities adds to the challenge of making strategic decisions with high impact and low risk.
With machine-assisted decision-making like VTT CityTune® cities can
Reach better transparency
Anticipate future developments, test what-if scenarios in a modelling environment and gain valuable insight for strategic decisions
Compare trends and their impact with strategic goals
Download your copy of our whitepaper and learn more!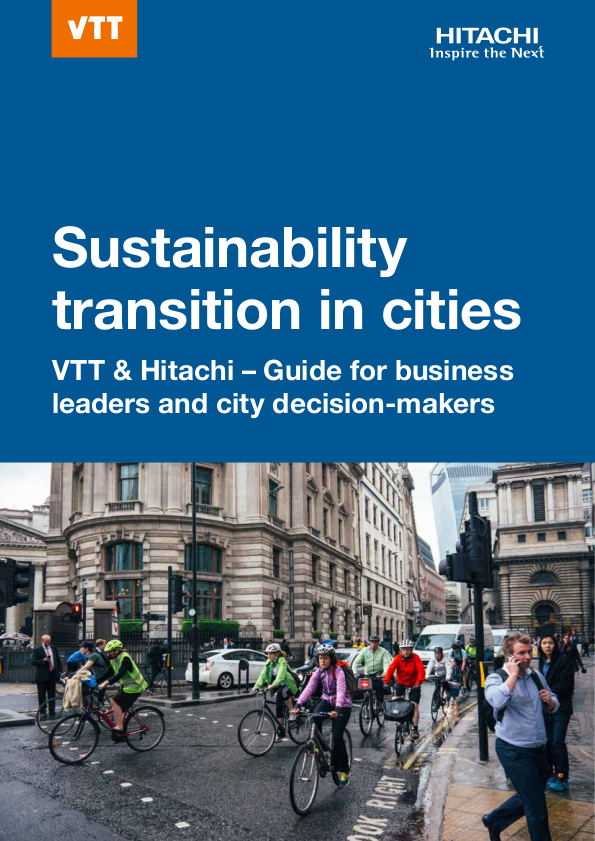 Register here to download your copy
VTT
VTT is a visionary research, development and innovation partner for companies and the society. We bring together people, business, science and technology to solve the biggest challenges of our time. This is how we create sustainable growth, jobs and wellbeing and bring exponential hope. 
VTT is one of the leading research organisations in Europe, and we have nearly 80 years of experience in cutting-edge research and science-based results. Our more than 2,000 professionals work to develop systemic and technological solutions that can bring about fundamental transformation. 
We promise to always think beyond the obvious. 
Hitachi
Hitachi, Ltd. headquartered in Tokyo, Japan, is focusing on Social Innovation Business combining its operational technology, information technology and products. The company's consolidated revenues for fiscal 2018 totalled in 9,480.6 billion yen ($85.4 billion), and the company has approximately 296,000 employees worldwide. Hitachi delivers digital solutions utilizing Lumada in five sectors including Mobility, Smart Life, Industry, Energy and IT, to increase our customer's social, environmental and economic value.