Go directly to content
Electrifying public transportation
A guide to help you transition to electric vehicles with minimum risk
We are currently witnessing a real shift towards zero-emission and carbon-neutral transport.
The electric future is not only reserved for private vehicles, but for public and commercial transportation, too.
Who is this guide for
Public transport authorities and operators
Infrastructure consultation companies who will be advising in the transition
Industrial companies including vehicle manufacturers, charging technology providers and software developers.
What will you get
This 14-page guide explores how to:
overcome the most common challenges of electrification,
avoid costly mistakes,
and take the next steps on your electrification journey.
We will address questions such as: How to maintain the reliability of an electrified transport system? How to ensure an infrastructure that supports the optimal use of the fleet? How to make a smooth transition?
You will hear success stories from Helsinki, Finland and Santiago de Chile – two very different capital cities – and the key findings that the decision-makers in these cities had.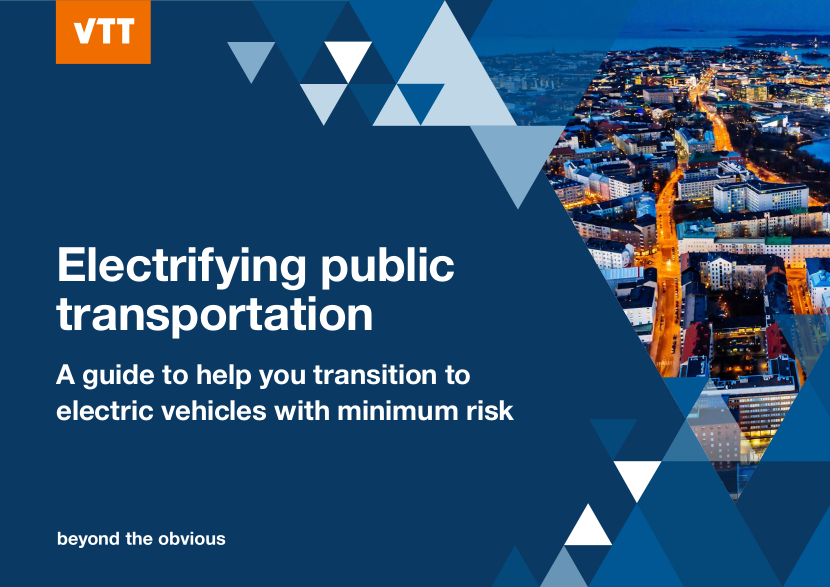 Table of contents
Chapter 1: The benefits of transport electrification
Chapter 2: Overcoming common challenges
Taking city's topography and climate into account
Planning the charging infrastructure and selecting the right technologies
Making everything work together seamlessly
Selecting the best techno-economical deployment scenario
Chapter 3: Support your decision-making with VTT Smart eFleet
About VTT
VTT is a visionary research, development and innovation partner for companies and the society. We bring together people, business, science and technology to solve the biggest challenges of our time. This is how we create sustainable growth, jobs and wellbeing and bring exponential hope.
VTT is one of the leading research organisations in Europe, and we have 80 years of experience in cutting-edge research and science-based results. Our more than 2,000 professionals work to develop systemic and technological solutions that can bring about fundamental transformation.
We promise to always think beyond the obvious.
Key facts*
Revenue 254 M€
Over 1160 customers
~430 patent families
* VTT Group 2021