Go directly to content
Handbook
The next big thing for food: cellular agriculture
To build a future with enough healthy food for everyone without overwhelming the planet, we must transform our current food system.
The world is hungry for clean, healthy and nutritious food. At the same time, people are waking up to the consequences of our way of living and the harmful effects of food production on the environment.
Cellular agriculture, a sustainable option for food production, has the potential to disrupt the current food system and to provide an alternative to unsustainable and unethical production methods.
As well as offering a brand-new way of producing food, cellular agriculture has already begun to generate new business opportunities.
Cultured plant cells will transform the current food system.
Download our cellular agriculture handbook
This to-the-point handbook explains how cellular agriculture can help build our future. It is for everyone with an appetite for innovation and interest in shaping the future of food.
In this handbook, we discuss:
Why we need cellular agriculture
Examples of cultured cell foods existing today
4 key advantages of cellular agriculture
How to get started with cellular agriculture
Download to learn more!
What is VTT?
VTT Technical Research Centre of Finland Ltd is one of Europe's leading research institutions. We are a multidisciplinary contract research and innovation partner for forerunners in the industry.
VTT helps in creating customized future food solutions, setting up novel food production as well as piloting and upscaling. The cornerstone of our innovation services is based on biotechnology and bioprocessing technologies that enable the renewal of food processes.
We bring together people, business, science and technology to solve the biggest challenges of our time. This is how we create sustainable growth, jobs and wellbeing and bring exponential hope.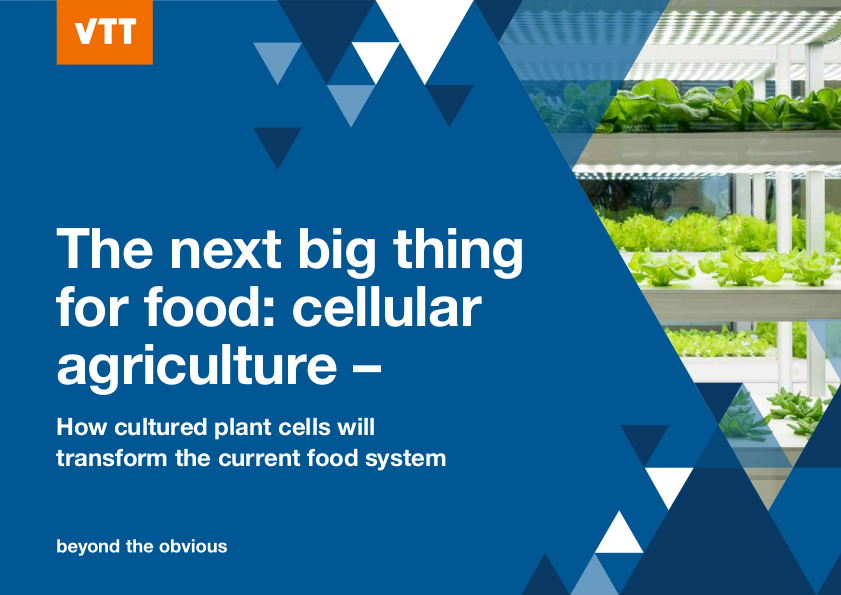 Download your copy