Go directly to content
VTT Discussion Paper
A Circular Economy of Plastics
How can we tackle plastic pollution, greenhouse gas emissions and maintain the societal benefits that plastics offer for developed and emerging societies at the same time? The short answer is: through a circular economy of plastics.
VTT's Discussion Paper will present a vision of the circular plastics economy and address the requirements for the change from a linear to a sustainable circular economy. The focus of the paper is on design for circularity, circular business models, recycling technologies and their benefits. We also consider replacing fossil resources with renewable raw materials and energy.
The document has been developed in a working group comprising VTT's top experts in the field of polymer design, plastics processing, product development, recycling technologies, and circular & bioeconomy. The work has been carried out through cross-disciplinary workshops and person-to-person brainstorming sessions.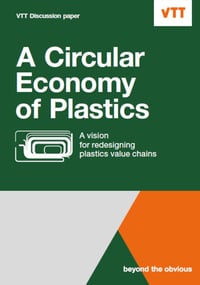 To download the discussion paper, please enter your details below: