Go directly to content
VTT guide
5 things you need to know about meat alternatives
We know that meat production is inefficient, resource-intensive and supply chains are vulnerable to disruption. Despite these problems, meat doesn't seem to be going away any time soon. How do we solve the problem of meat when all projections anticipate global demand for meat to skyrocket in the coming years?
We need to develop plant-based foods that are indistinguishable from meat. By innovations based on combining cellular agriculture (i.e. cellular biomasses or specific ingredients produced via precision fermentation) with traditionally challenging plant-based materials, businesses can finally produce meat alternatives that offer an identical sensory experience to the real deal, on an industrial scale.
Content
This guide presents five key points to consider if you want to produce the meat alternatives that consumers everywhere will love.
Opt for challenging, plant-based raw materials
Securing the sizzle and flavor
Producing cost-efficient ingredients for meat alternatives
Nutritional value and clean labelling should be a priority
A holistic approach to the development meat analogues is key
Who is this for
This guide is aimed for all food producers who are producing or planning to produce alternative ingredients or products for meat.
How VTT can help you?
Our hybrid approach makes scalable mass-production a reality. We have gathered excellent expertise in the fields of plant-based ingredient & food design and cellular agriculture. By embracing us as a partner for change, you can develop a product and production process that will appeal to your customers, while working towards a future that is free from food crises.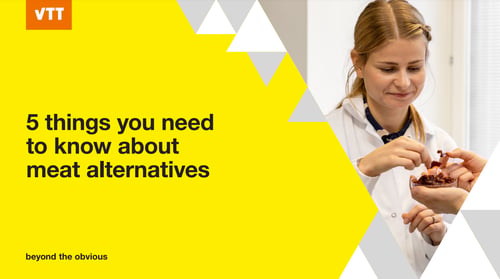 Download your copy now
About VTT
VTT is a visionary research, development and innovation partner for companies and the society. We bring together people, business, science and technology to solve the biggest challenges of our time. This is how we create sustainable growth, jobs and wellbeing and bring exponential hope.
VTT is one of the leading research organisations in Europe, and we have 80 years of experience in cutting-edge research and science-based results. Our more than 2,000 professionals work to develop systemic and technological solutions that can bring about fundamental transformation.
We promise to always think beyond the obvious.
Key facts*
Revenue 254 M€
Over 1160 customers
~430 patent families
* VTT Group 2021