Go directly to content
VTT guide
How to develop competitive meat alternatives
A guide for food companies

There is a dire need for meat alternatives that are indistinguishable from meat. Consumers are looking for the right taste and texture, as well as reasonable cost and nutritional values. Food companies around the globe are wondering: just how to create that sizzle?
Taste and texture are king – that's what we hear from food companies repeatedly. Both protein modifications and choosing the right fat profile are needed to accomplish this. Together, they result in a sensory experience close to the real deal, on an industrial scale.
Additional pain points frequently observed are production costs as well as the nutritional value of meat alternatives.
We put together this guide to summarize the expertise of our close to 100 researchers who are focused on food innovations, to help companies develop their competitive advantage.
The market is far from established, and there is still plenty of room for new innovations.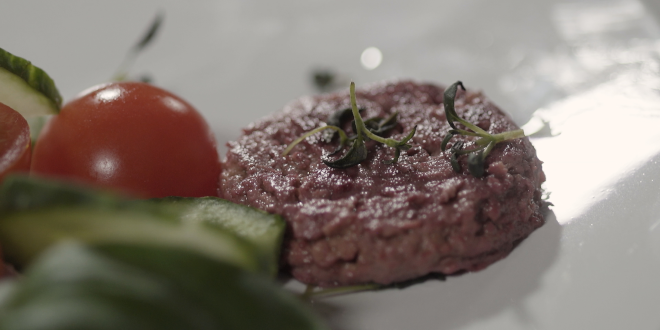 Who is this guide for?
For companies strategically committed to advance plant-based and hybrid foods.
It does not matter if you're an established player in the field, or only starting your journey. We have worked successfully with both food giants and start-ups, and helped them develop amazing and competitive products.
What matters more than company size is the willingness to start investing in meat alternatives – to solve the challenges currently faced.
Content
This short guide focuses on five challenges currently faced in meat alternatives production, and how to overcome them.
Selecting challenging, plant-based raw materials
Securing the sizzle and flavor
Producing cost-efficient ingredients for meat alternatives
Considering nutritional value and clean labelling
A holistic approach to the development meat analogues
Download your copy now!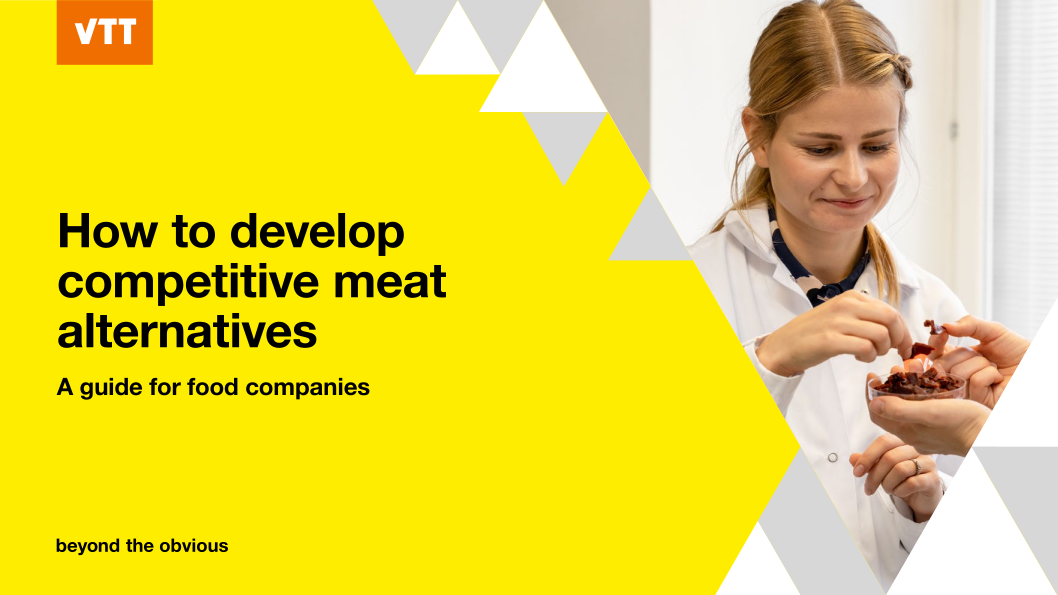 Download your copy now
About VTT's food expertise
VTT's food and beverage research and development work enables the transition towards a smart and sustainable food system.
The spearheads of our innovation services are plant-based ingredient and food design, cellular agriculture and precision fermentation, as well as bioprocessing technologies.
We help companies solve problems throughout the value chain: from ingredient level to final product tuning and analysis services.
VTT has close to 100 researchers focused on food innovations and close to 100 additional researchers focused on industrial biotech.
Our facilities enable research, development, and innovation from laboratory to pilot scale. We also work in the production environments of our customers.
In the food industry, every research case is unique, and we are used to tailoring our services based on customer needs.
About VTT
VTT is a visionary research, development and innovation partner for companies and the society. We bring together people, business, science and technology to solve the biggest challenges of our time. This is how we create sustainable growth, jobs and wellbeing and bring exponential hope.
VTT is one of the leading research organisations in Europe, and we have 80 years of experience in cutting-edge research and science-based results. Our more than 2,000 professionals work to develop systemic and technological solutions that can bring about fundamental transformation.
We promise to always think beyond the obvious.
Key facts*
Revenue 261 M€
Over 1190 customers
~400 patent families
* VTT Group 2022